BUDGET OFFER RESIDENCE
Amenities
Linens, blankets & bathroom towels included
Wi-Fi available in communal area
Communal fully equipped summer kitchen - open air on the terrace with a sea view
Shared bathrooms with shower
The budget rooms come with a comfortable double bed, twin bed, triple or even 4 beds.
Our budget rooms have access to terraces with stunning sea views and include well equipped communal kitchen and bathrooms with hot showers that make your stay comfortable.
Rooms are Non-Smoking. Smoking is allowed on the terrace.
Linen change weekly. Towel change every 3 days. Room cleaning weekly.
Extra cleaning during the weeek is available at the extra charge.
Distance from our Residence to the nearest beach is ca. 7 min walk down the street (Popular "Banj" pebble beach with sandy sea bottom.)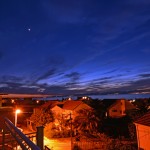 PLEASE CHECK OUR SPECIAL OFFERS AVAILABLE FOR DIRECT BOOKING & LONGER STAYS!
For direct booking discount please enter this code in the subject field: MYDIRECTBOOKING
Your inquiry: