Zlatni Rat – Golden Cape beach, Bol, island Brac, Croatia

Zlatni Rat – Golden Cape beach is a world famous pebble beach located 2 kilometres west from the Dalmatian town Bol, island Brac, Croatia.
Golden Cod beach, Goldenes Horn and Punta d'Oro, are some of the beach famous names. This world famous beach with crystal clear waters,  is located on the sunny South coast of Brač island.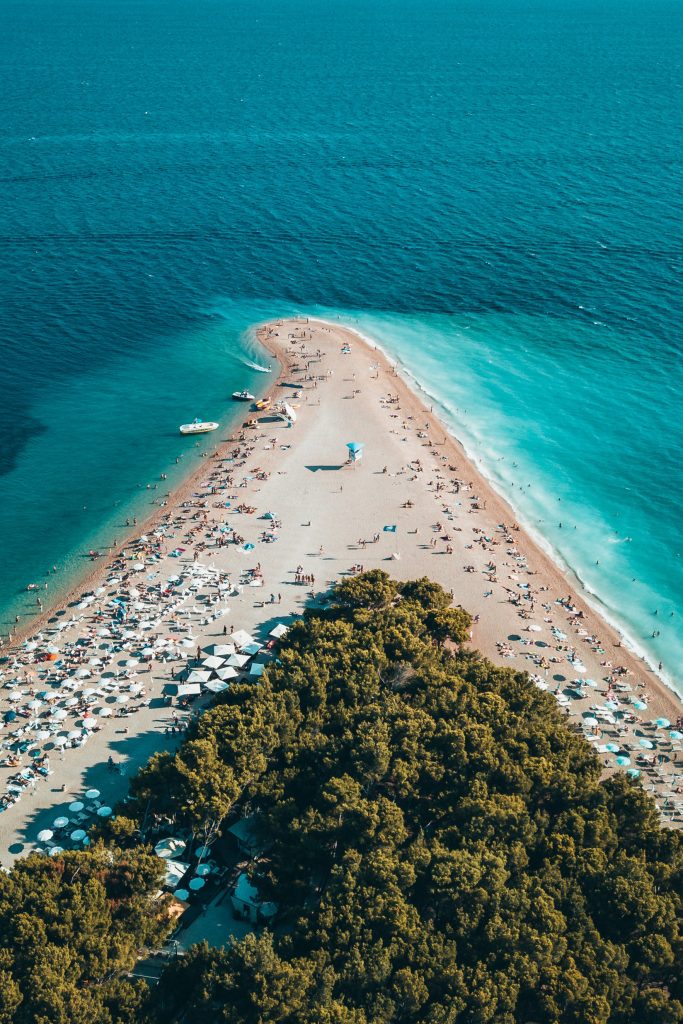 White stone promenade connects the beach with the town centre of Bol, which makes it a pleasant stroll in the summer months. This 530 meters of pebble beach extends into the Adriatic Sea channel between Dalmatian islands Brač and Hvar. Zlatni rat beach is also a very popular destination among windsurfers and kitesurfers because of Maestral wind that blows everyday in the afternoon hours.
Zlatni Rat beach is regularly listed and awarded as one of the top beaches in Europe and has become one of the most famous symbols of Croatian tourism. Beach was number 3 of the Best Beach Destinations in Europe for two years in a row.
Its particular shape is a nature phenomen and can be seen in many magazines and depliants. Beach shape continually changes in the winter monts from one side to another because of the strong winds and tides. This phenomen makes this beach a truly unique wonder of nature and well worth of visit.

One part of the beach has shade from fragnant pine trees, sunbeds and umbrellas are available to rent at the beach. Pedal boats, wind surfing boards, kite surfing equipment, jet-ski's and sea trampolins are available too.
How to reach Zlatni Rat beach
Zlatni rat is beach which one should visit while visiting Brac and you can easily visit it from Supetar. There are daily bus lines from Supetar every day and local taxi's that take up to 8 person per van. There are also katamarans from Split and Hvar every day.

Find out about other famous Beaches of Brač Island, Croatia.
Next favorite beach review and new photos coming soon!

Follow us for updates and local insider tips for best vacation on Island Brac, Croatia.